As Gertrude Stein said, "coffee is a lot more than just a drink; it's something happening. Not as in hip, but like an event, a place to be, but not like a location, but like somewhere within yourself. It gives you time, but not actual hours or minutes, but a chance to be, like be yourself, and have a second cup."  We are a group of coffee and tea lovers; we luxuriate in the chance to linger over a hot cup at our local coffee shops. And we have so many wonderful ones in Seward and Longfellow. Read more on what we love most about several of our local spots in the first of our community spotlights series highlighting the great businesses and newcomers to our neighborhood.
DOGWOOD COFFEE
Dogw
ood Coffee Co. has several locations throughout the Twin Cities, including their shop on East Lake Street. The space is cozy and often bustling with community any time of day. Their coffee is delicious and they have some the delicious and creative seasonal specials, like the almond and orange latte, which was served with a tasty little candied orange, or one my forever favorites, the bourbon sweet potato latte. Dogwood may have saved our mood during those difficult pandemic times, and still does on those hard work days.
MILKWEED

Milkweed is a quirky, vibrant coffee shop located on the corner of East Lake and 39th Avenue. From its bright lighting and lush plants to the cosmically inspired beverages and warm baristas, this neighborhood staple has something for everyone! My personal favorite is the standard hot toddy with vegan banana bread: a winning combo that never fails to warm me up. For those with dietary restrictions, there are plenty of gluten-free and vegan offerings, and all their nut milks are made fresh in-house! The soft grunge aesthetic, murmuring conversations, and host of regulars is reminiscent of the iconic cafe, "The Planet" from The L W
ord. All these reasons and more keep me coming back to this local gem.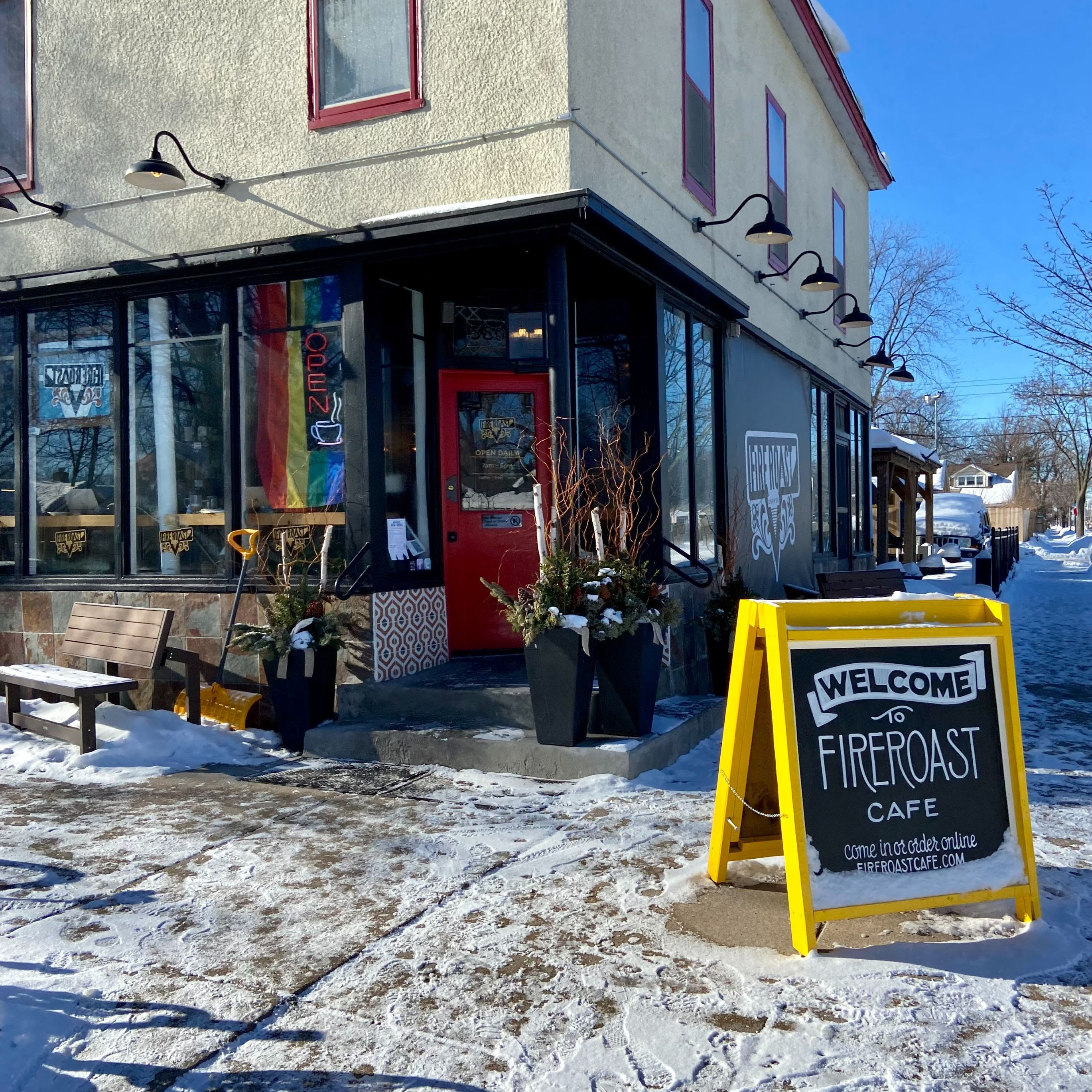 FIREROAST
Fireroast is a cozy little coffee shop/ cafe on the corner of 38th Street and 37th Ave. It's the kind of place you want to spend the afternoon in – working or chatting  with the sun shining through the large windows.
While their coffee is great, part of what makes this coffee shop such a special spot is the pastries and food, both of which are made in-house. I'm in love with the Avocado Hummus Wrap and the blueberry lemon muffin. The customer service is great – everyone has been so kind.  We're so excited for patio season so we can enjoy all their goodies in the sunshine on their spacious patio.
WILDFLYER
Wildflyer is a small coffee shop in Longfellow located on Minnehaha. They're known for their relaxing atmosphere, and delicious pastries, bu
t overall their mission is what makes them stand out from the other cafes in the area. The aesthetically pleasing cafe has a warm relaxing atmosphere and is quite spacious, with two rooms of seating. In addition, the cafe is filled with an abundance of plants that adds to the relaxing and warm feelings one feels upon entering. Good coffee is easy to come by, but where Wildflyer excels is in its pastries. Their banana bread is always moist and their ham & cheese croissants are always sold out as the regulars know you have to get them before they're gone. As if the cafe couldn't get better it serves as a catalyst for change for the youth in our community. Wildflyer is committed to ending youth homelessness. They provide employment and cultivate the personal and professional skills needed to find and maintain stable employment and leave homelessness for good.